VGOD Mighty Mint - Stig - Disposable Pod Vape in UAE.

Stig - Disposable Pod Vape in Dubai, Abu Dhabi, Sharjah, Ajman, Al Ain, Fujairah, UAQ & RAK.
SKU:
INDUS|STI|VGOD|DISPO|01|0001840|VAPE
Authentic Products
Lowest Price
Free Shipping
Card Payment on Delivery
Cash on Delivery
Disposable Cartridge Device by VGOD
2-6% nicotine concentration
Each STIG contains 1.2 ml of SaltNic Juice
Contains nicotine salts
Approximately 200 puffs per device
Each Package Contains 3 STIGS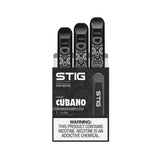 VGOD Mighty Mint - Stig - Disposable Pod Vape in UAE.

Stig - Disposable Pod Vape in Dubai, Abu Dhabi, Sharjah, Ajman, Al Ain, Fujairah, UAQ & RAK.
Authentic Products
Lowest Price
Free Shipping
Card Payment on Delivery
Cash on Delivery
Make the change
The STIG pod was created for those looking for a minimalist solution to vaping. It is a very small disposable cartridge device with a low power battery. The STIG is made to be extremely easy to use and convenient for those looking for a healthier lifestyle solution. For this reason, STIG does not have any button, no charging or filling required. It is an inhalation activated device that has a pre-charged battery and is filled with 1.2 ml of SaltNic nicotine-mixed e-liquid formula. No maintenance is required and when the STIG runs out of liquid it can simply be thrown away.
Shipping & Delivery Policy
✔️ Order before 12 midnight are eligible for next day delivery.
✔️ Delivery is available for all 7 emirates except remote areas.
✔️ Delivery 7 Days a Week except public holidays.
✔️ We make every best effort to ship your order by noon on the next working day. An emergency situation or severe weather condition may cause delay in the shipment.
✔️ Customers can choose standard or expedited delivery. Additional fees will be notated on the checkout depending on the service chosen.
✔️ Company does not ship "signature required". Customers are responsible to have someone available to receive items when shipped.
✔️ Company is not responsible for any lost or damaged items during the shipping process.
✔️ Pre order Items have different delivery dates and you can find it on the products description page.
✔️ Shipping addresses cannot be changed. We will only ship to the shipping address entered when the order was originally placed. Shipping fees are non-refundable. The original shipping fee will be deducted from your refund.
✔️ Courier will handing your delivery when you provide your Emirates ID / Passport and pay total invoice amount.
✔️ You must be over age of 18 to place an order. If you are underage and you place an order, you will lose your money, guaranteed.
Delivery Charges
✔️ AED 20 standard delivery charges if order is less than AED 200.
✔️ No delivery charges / free shipment if order total value is AED 200 or above.
✔️ Unless otherwise stated shipping promotions are for Standard shipping only. 
Order & Delivery Confirmation
✔️ You will receive order confirmation after placing the order by e-mail from info@stigpodsuae.ae
✔️ Once the order is fulfilled and ready to deliver, you will receive SMS or WhatsApp or email notification.
✔️ Our courier will confirm the location by WhatsApp or phone call to ensure delivery to the correct location.
✔️ For any further enquiries or explanation, please feel free to email us on info@stigpodsuae.ae or whatsapp at +63 942 644 1785
Warranty
✔️ Our products feature a 2-day Warranty regarding factory fault.
✔️ StigPodsUAE.ae invoice number must be provided in order to proceed.
Returns
✔️ A refund or exchange can be claimed within 2 days of buying of the product. The claim will become void after that period.
✔️ In order to claim the refund or return, the item must be returned in an unused and new condition packed in original factory packing.
✔️ All Items sold cannot be returned unless.
- Factory Defects
- Packaging Mistakes
Refund
✔️ You will be acknowledged the receipt of your item via email once we receive it. On inspection of the item, you will be informed about approval or rejection of your refund via email. In case of approval, your refund will be processed via bank transfer or cash in some cases. In case of rejection, same products will ship back on your shipment address.
Exchanges 
✔️ Only defective or damaged items are exchanged.  To exchange with the same item, send us an exchange request on info@stigpodsuae.ae
Exclusion
The following are NOT covered and are excluded from this warranty:
✔️ Pods
✔️ Accessories in general
✔️ Please remember, StigPodsUAE.ae warranty covers only factory defects. Any misuse, scratches, drop signs, misuse of batteries or chargers will void the warranty immediately.
StigPodsUAE.ae is not responsible for
✔️ Abuse of any kind
✔️ Dropping the device
✔️ Scratches
✔️ Force Majeure
✔️ Items opened by another party
✔️ Items covered by another warranty
✔️ Products with repair attempts by someone other than StigPodsUAE.ae authorized service personnel
✔️ Injuries of any kind resulting from use regardless of circumstance
Issues and damage resulting from 3rd party (non StigPodsUAE.ae) software
✔️ Issues arising from alterations or modifications
✔️ Products with missing or defaced serial numbers.
Pods
✔️ 
No refunds. No returns. Taste is too subjective. Many e-liquids that some find amazing, others dislike, so we cannot offer refunds or returns simply because you do not like the taste of an e-juice. We apologize for this in advance.
Due to the fact that we cannot ascertain if e liquids have been doctored / tampered with we are not able to accept returns of any e liquids whether they are unopened, unused or remain sealed unless we have sent you incorrect liquids in your order. 
Indemnification
✔️ The user shall agree to defend, indemnify and hold StigPodsUAE.ae harmless from and against any and all claims, damages, costs and expenses, including attorneys' fees, arising from or related to your use of the Site.
Common Sense
✔️ Misuse, If an item if damaged because You didn't know how to operate it/maintain it or you were "learning" it's obviously not covered in any warranty , Vape gears aren't a new Fridge or a TV set or a new mobile phone as their life span completely dependent on your knowledge base and whether you know the specs and the capabilities of these devices or not , Vaping in general is a hobby and you are expected to watch reviews / read tutorials and you research before placing an order .
NOT FOR SALE TO MINORS
THIS PRODUCT MAY BE HAZARDOUS TO HEALTH AND IS INTENDED FOR USE BY ADULT SMOKERS. KEEP OUT OF REACH OF CHILDREN. STIG PRODUCTS WITH NICOTINE E-LIQUID ARE NOT SUITABLE FOR USE BY: PERSONS UNDER THE AGE OF 21, PREGNANT OR BREASTFEEDING WOMEN, OR PERSONS WHO ARE SENSITIVE OR ALLERGIC TO NICOTINE, AND SHOULD BE USED WITH CAUTION BY PERSONS WITH OR AT A RISK OF AN UNSTABLE HEART CONDITION OR HIGH BLOOD PRESSURE.
Note: There is always an inherent risk when using any rechargeable batteries at anytime and under any circumstances. StigPodsUAE.ae and any of StigPodsUAE.ae's parent and subsidiary companies are not held responsible for any damage for any modification of the batteries, chargers, devices and other products that we carry in any form or shape, this is including pack making.
StigPodsUAE.ae and any or all of StigPodsUAE.ae's parent and subsidiary companies will not be held responsible or liable for any injury, damage, or defect, permanent or temporary that may be caused by the improper use of a Li-ion (Lithium-ion), LiPo (Lithium-ion Polymer) and any rechargeable battery/batteries as well as chargers. Please have a greater understanding of the batteries/chargers you are using and how to care for them properly.
When working with Li-ion (Lithium-ion), LiPo (Lithium-ion Polymer) and any rechargeable cells, please be cautious and carefully use as they are very sensitive to charging characteristics and may explode or burn if mishandled. Please make sure that you have great knowledge on all rechargeable batteries before you use them. Always charge batteries at the clean and fire-proof surface. Never leave charging batteries unattended. If you see that there are visible damages on the batteries, please do not use. Always keep, store and transport the rechargeable cells in a safe, non-conductive container in controlled environment
Do not use any rechargeable battery as well as any battery charger if any visible damage is present, as well as if the cell or charger has been stressed through mishandling, accidental or otherwise, even if damage may not be visible. Always store and transport rechargeable cells in a safe, non-conductive container in a controlled environment. Please dispose battery cells, chargers or any other electronic devices in accordance of local laws and mandates.
More from this collection
QUESTIONS

AND

ANSWERS
STIG PODS DISPOSABLE VAPE DELIVERY IN UAE (Dubai, Abu Dhabi, Sharjah, Ajman, Al Ain, Fujairah, UAQ & RAK)
All
GENERAL QUESTIONS
TECHNICAL QUESTIONS